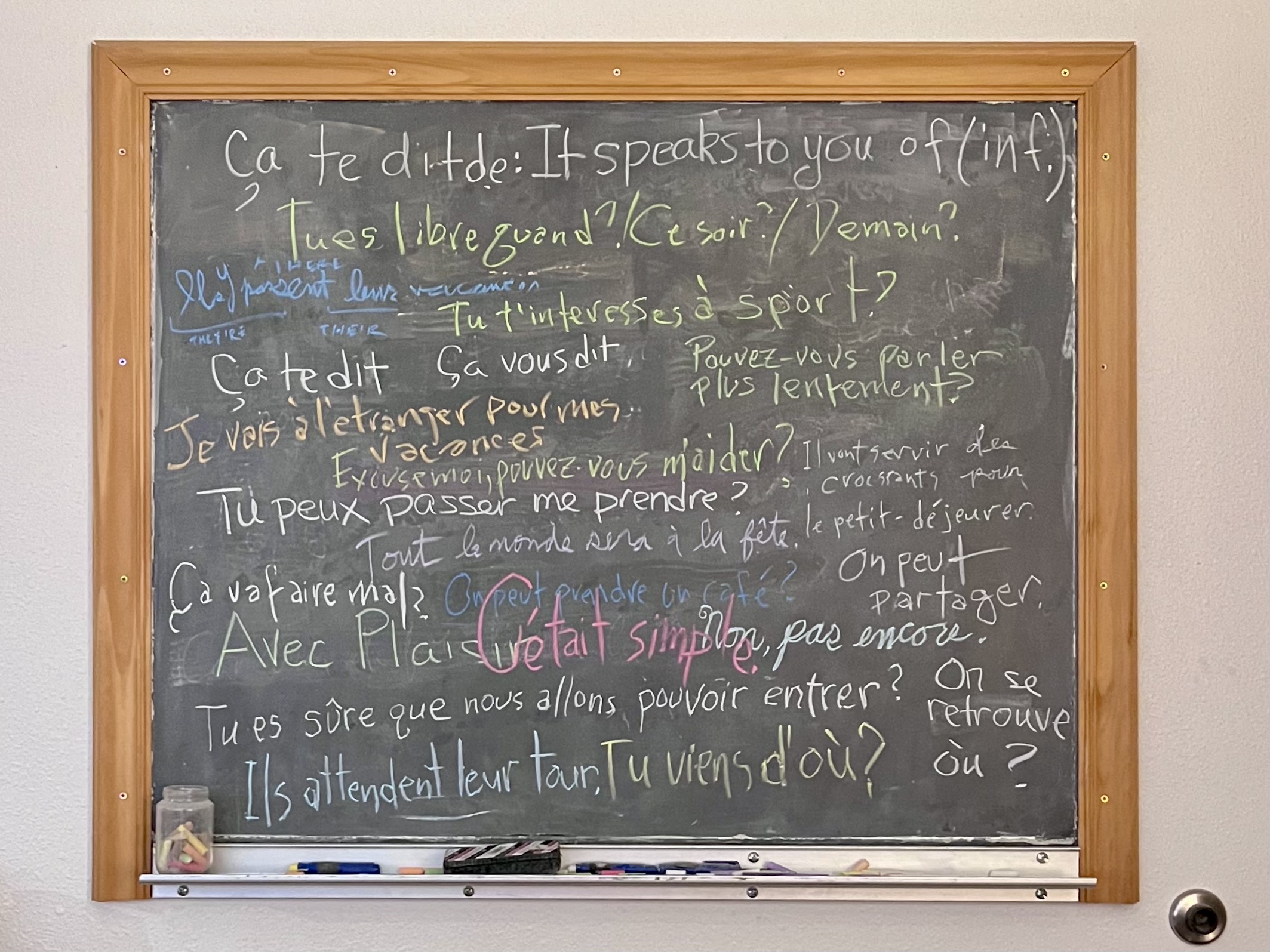 This is the first in a series of posts sharing the French Chalkboard at chez Oakleys where Patricia and I write phrases as we continue to learn the French language — reading, writing, listening, and speaking. When the chalkboard fills up, we snap a picture of it and then erase, and start over with new phrases.
We took our first French classes at Goshen College in 2010, when we lived in Goshen, Indiana. Our first French teacher was Kathleen Massenari, who had grown up in Goshen but lived in Paris for years as an adult, returning home to Goshen in the early 2000s when her parents were ailing. Kathleen was an excellent teacher, and a delightful personality, and our first two semesters of college-level French were a lot of fun. We loved it!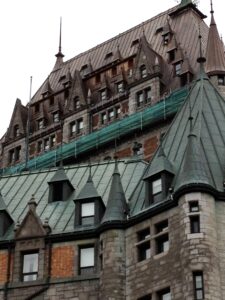 In the Spring of 2012 we took a road trip to visit Quebec City in Canada for our first immersion experience in a French-speaking country. It was great to be able to read the Quebec road signs and billboards along the way, and to read menus in restaurants. But we discovered that Québécois French sounds a lot different from the Parisian French we had been learning with Kathleen at Goshen College.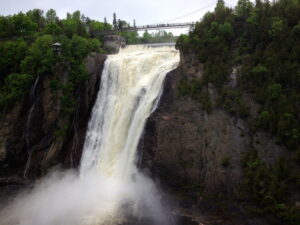 We did not actually speak much French at all on that trip, but it was delightful to be able to read the local language and manage to find our way around in a foreign city.
It may have been on that trip to Quebec that we first began to dream about spending an entire year in France, to really have opportunity to learn and speak French well. That idea stuck with us, but it would be many years before we would finally make it to France.
I had actually visited Paris way back in 1987, when I was working for Mindscape, a computer games company, doing computer game graphics for the first personal computers — Commodore 64, Atari, and the IBM PC. I was on a team to design a computer game based on Andrew Lloyd Weber's "The Phantom of the Opera," and the company owner sent us first to New York to see the Broadway play, and then on to Paris for a VIP tour of the actual Paris Opera. We got to see the lowest levels where water still flows in tunnels beneath the city, and out onto the rooftop of the opera house, beside the enormous sculptures of golden-winged stallions. It was my first trip away from the United States, and I didn't know French at all. I loved Paris; it was exotic, so cosmopolitan, such great food, style, and culture. But I missed Patricia, and wondered if we might come to France together sometime.
In 2015 we moved to Albuquerque, New Mexico, where we expected to eventually retire in a few years. Through Patricia's work at CNM (Central New Mexico Community College) we learned of a ten-day organized group trip over the winter break in 2018 to visit London and Paris. We leapt at the chance to travel to France even for just a few days, ever hoping for opportunities to practice this new language in hopes of becoming fluent. It had been years since our first French classes, but we brushed up on some of the basic phrases and tried out greetings, simple questions, and thanks, in the restos and shops we visited in Paris.
We would get back to France for a longer stay in the Fall of 2022, but that story can wait until the next French Chalkboard post. Don't miss it — catch all these posts on the French Chalkboard page.